Oregon Health Authority

The Oregon Health Authority is at the forefront of lowering and containing costs, improving quality and increasing access to health care in order to improve the lifelong health of Oregonians.
The Drinking Water State Revolving Fund (DWSRF) provides low-cost loans to community and nonprofit non-community water systems for planning, design and construction of drinking water infrastructure improvements.
Funds are also available for drinking water source protection efforts. In Oregon, the DWSRF program is often referred to as the Safe Drinking Water Revolving Loan Fund (SDWRLF).
Oregon Department of Environmental Quality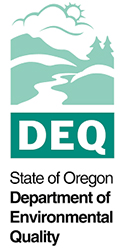 DEQ's mission is to be a leader in restoring, maintaining and enhancing the quality of Oregon's air, land and water.
The Clean Water State Revolving Fund provides below-market rate loans for the planning, design and construction of water pollution control activities. Eligible public agencies include tribal nations, cities, counties, sanitary districts, soil and water conservation districts, irrigation districts, various special districts and certain intergovernmental entities.
Business Oregon Infrastructure Finance Authority

Business Oregon Infrastructure Finance Authority (BOIFA) manages the state's infrastructure needs, namely those around safe drinking water and wastewater systems, and prioritizes them in order to ensure the best use of the state's limited resources. The SRF program is managed by the OHA and the loans are managed by the BOIFA.
Oregon State Revolving Fund Resources
| Description | Type | Date | Download |
| --- | --- | --- | --- |
| Drinking Water State Revolving Fund - Legislation | | 2019 | |
| Drinking Water State Revolving Fund - Intended Use Plan | | 2021 | |
| Drinking Water State Revolving Fund - Project Priority List | | 2022 | |
| Drinking Water State Revolving Fund - Annual Report | | 2020 | |
| Drinking Water State Revolving Fund - Loan Ranking Criteria | | 2018 | |
| Clean Water State Revolving Fund - Legislation | | 2017 | |
| Clean Water State Revolving Fund - Intended Use Plan | | 2022 | |
| Clean Water State Revolving Fund - Project Priority List | | 2022 | |
| Clean Water State Revolving Fund - Annual Report | | 2020 | |
| Clean Water State Revolving Fund - Loan Ranking Criteria | | 2020 | |